Welcome to Nicotine Anonymous (NicA)
Nicotine Anonymous ("NicA") is a non-profit 12-step fellowship of people helping each other live nicotine-free lives. Nicotine Anonymous welcomes all those seeking freedom from nicotine addiction, including those using cessation programs and nicotine withdrawal aids. The primary purpose of Nicotine Anonymous is to help all those who would like to cease using tobacco and nicotine products in any form. The Fellowship offers group support and recovery using the Twelve Steps and Twelve Traditions, as adapted from Alcoholics Anonymous to achieve abstinence from nicotine.

SevenMinutes is our quarterly newsletter sharing members' experience, strength, and hope. It is full of tips to help with cravings, suggestions of what has worked for others, and conversations about nicotine recovery. NicA News is a great way to keep up-to-date on information in Nicotine Anonymous. Once you sign up, you will receive periodic emails (such as conference/event announcements, literature updates, board meeting minutes, etc.) Download the current edition as a PDF.


DID YOU KNOW?
You do not need to have stopped smoking to come to Nicotine Anonymous meetings! All you need is to have a desire to stop smoking.


The 2021 NicA World Services Conference recordings are now available for download as MP3s in our Store.
Read our latest September Newsletter
Read our new Freedom From Vaping Nicotine pamphlet

Order the new Sponsorship in Nicotine Anonymous booklet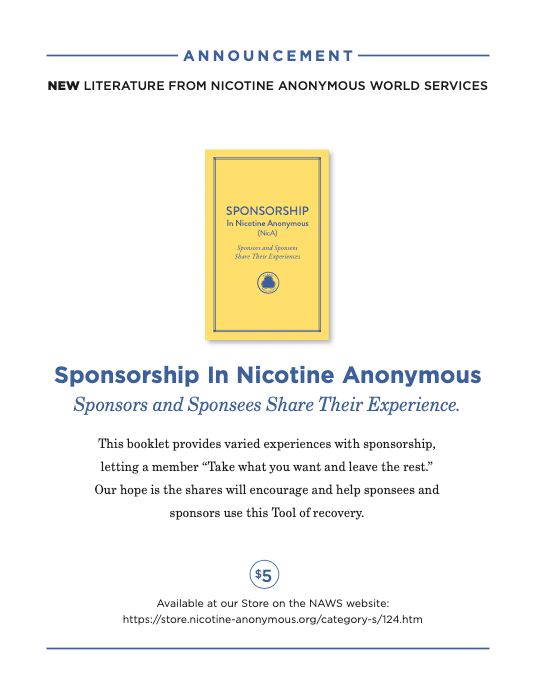 ALL NICA LITERATURE IS AVAILABLE FOR PURCHASE AT OUR STORE (Click on the STORE tab)
CONTRIBUTE
Download our flyer to find out how to give a Gift of Gratitude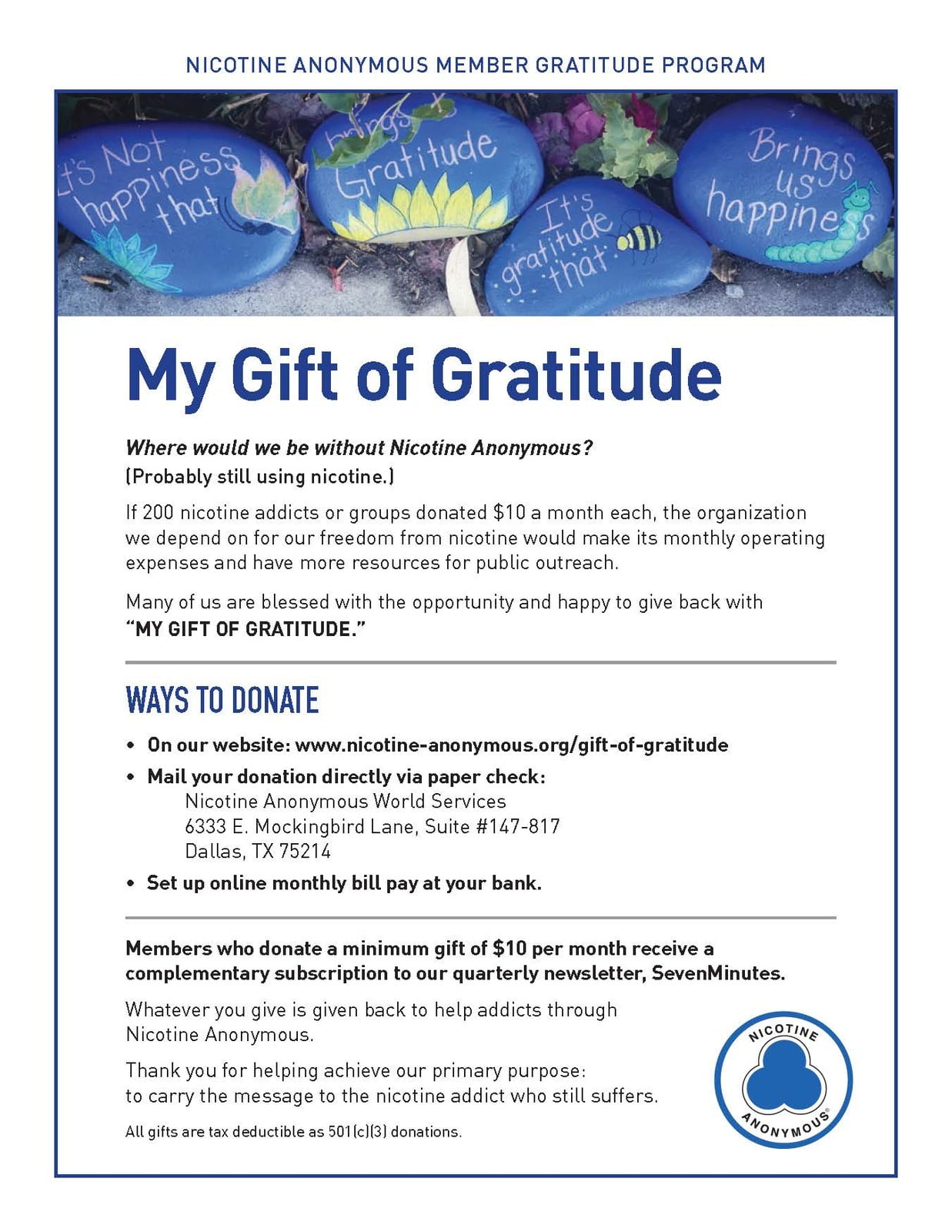 November 23rd (Attitude Of Gratitude)

667-770-1474 //207490#
If your carrier tries to block or charge you , dial 518-906-1708 before calling in.


____________________________________________________________________________
Please note: Due to the global pandemic, most in-person meetings are now online. Please find a list of Virtual Conference Meetings at this link. There may be others noted on the New York, Northern California, and Southern California intergroup websites. Click on the Intergroup's name to access their website.

____________________________________________________________________________

New NicA Meetings Opened in the Past 60 Days
To see all meetings, you may need to scroll down.
For all available info, click on FIND MEETING tab.