To translate this website into your language:
in the left side enter "nicotine-anonymous.org"

in the right side select your language

click on the link to the translated website
Disclaimer:Google Translate cannot translate all types of documents, and may not provide an exact translation. Nicotine Anonymous does not make any promises, assurances, or guarantees as to the accuracy of the translations provided.
Welcome to Nicotine Anonymous (NicA)
Nicotine Anonymous ("NicA") is a non-profit 12-step fellowship of men and women helping each other live nicotine-free lives. Nicotine Anonymous welcomes all those seeking freedom from nicotine addiction, including those using cessation programs and nicotine withdrawal aids. The primary purpose of Nicotine Anonymous is to help all those who would like to cease using tobacco and nicotine products in any form. The Fellowship offers group support and recovery using the Twelve Steps and Twelve Traditions, as adapted from Alcoholics Anonymous to achieve abstinence from nicotine.
Due to minimal water damage, the following literature is selling for 50% off while supplies last.

Our Path To Freedom: 12 Stories of Recovery

The Book - 4th Edition
Seven Minutes is our quarterly newsletter sharing members' experience, strength, and hope. It is full of tips to help with cravings, suggestions of what has worked for others, and conversations about nicotine recovery. NicA News is a great way to keep up-to-date on information in Nicotine Anonymous. Once you sign up, you will receive periodic emails (such as conference/event announcements, literature updates, board meeting minutes, etc.)

ALL NICA LITERATURE IS AVAILABLE FOR PURCHASE AT OUR STORE (Click on the STORE tab)
WHAT'S NEW in NicA

Read the December edition of our "Seven Minutes newsletter"

Get the new Sponsorship in Nicotine Anonymous booklet

Free Bridge phone marathons

plus an extra one


Sunday, February 14th

8am-11pm ET



SEND US YOUR EVENT
If you would like to have your group or Intergroup event posted on this site, please contact us.

ATTEND THE 2021 WORLD SERVICE CONFERENCE
Download the flyer for details.
Or sign up at Homestead.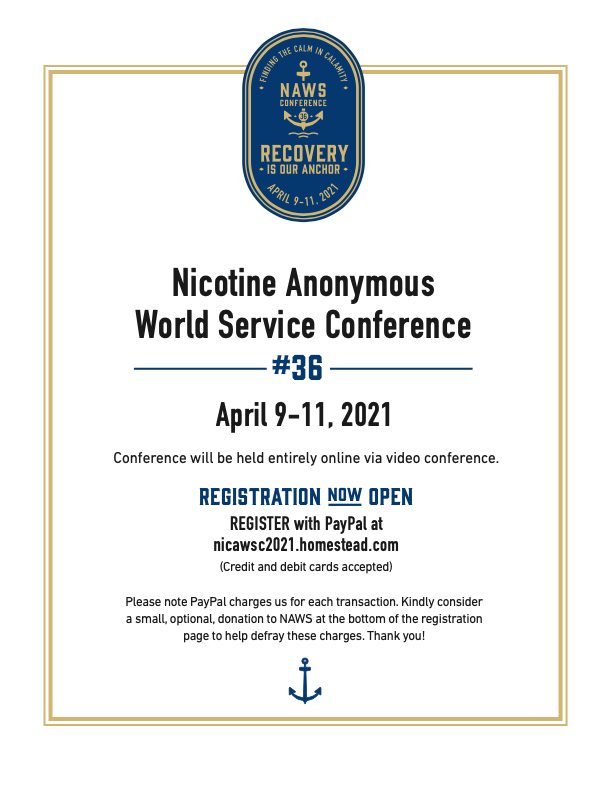 ____________________________________________________________________________
Please note: Due to the global pandemic, most in-person meetings are now online. Below is a list of video conference meetings of which we are aware. There may be others noted on the New York, Northern California, and Southern California intergroup websites. Click on the Intergroup's name to access their website.

Video Conference Meetings - listed by local time zone
1. click on the meeting you want to attend
2. highlight the zoom link and copy (ctrl + c)

3. paste (ctrl + v) into your web browser address bar

If the Additional Info column has a "Zoom: Mtg ID . . ." do this:
1. in a new browser tab/window, go to

https://zoom.us/join
2. enter the "Mtg ID" (and if shown, the "PW")
3. click on the "Join" button
NOTES: Please be aware that when you exit our site we are not responsible for another website's privacy policy, computer security, tracking technology, or intellectual property protection. Nor can we attest to the accuracy of information provided by any linked site. These website links do not constitute an endorsement in any way by Nicotine Anonymous.
____________________________________________________________________________

New NicA Meetings Opened in the Past 60 Days
To see all meetings, you may need to scroll down.
For all available info, click on FIND MEETING tab.